"Duʿāʾ", "Duaa", or "Dua" refer to Islamic supplication and remembrance of Allah (SWT). Generally, there are 2 types of Duaa; the Dua for asking, and the Dua for worshiping & thanking.
Du'a (Supplication) is one of the most special voluntary acts & forms of worshiping Allah Almighty. Muslims recite Duas at different times, situations, and activities during the day & night to gain the forgiveness and satisfaction of Allah (SWT).
Islamic Supplication (Dua) course at Quran Ayat Institute will help you or your children to learn daily dua (supplication) through one-to-one live classes with highly-qualified Islamic scholars.
What makes the Dua course by Quran Ayat unique is that it's totally customizable as per student's age, goals, and knowledge. Both kids & adults, males & females, can take this course to learn Islamic supplication (Du'a) online with a professional tutor (male/female) safely in the comfort of their own home.
Although our special Islamic Supplication (Dua) online course suits any age or gender. Yet, if you or your kids don't know how to read Arabic, we highly recommend that you obtain the Learn Arabic Course before starting to learn Dua.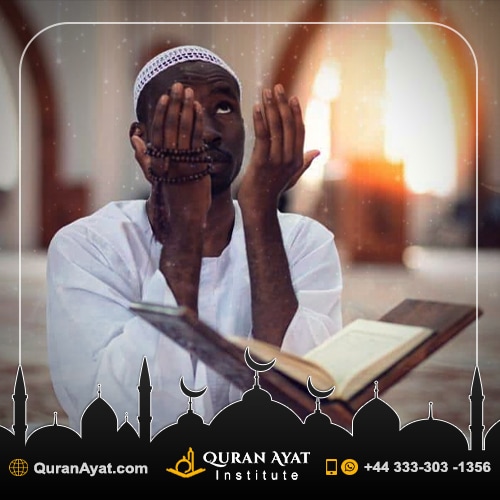 Etiquette of Dua'a
Du'a will likely be acceptable if the one follow these manners before doing it.
Faithfulness to Allah
To start with thanking Allah and praising Him and then giving salat on the Prophet (salAllahu alayhi wasalam) and ending the du'a with the same
To ask Allah by His Names and Attributes
Raising One's Hands
Face the Qiblah when making du'a
Performing Wudu
Trust in Allah and have Yaqeen (certainty) that it will be answered
Persistence in du'a, not being hasty and abandoning dua'a
Presence of the heart in the du'a
Say du'a at times of trouble and of pleasure
To Cry with the fear of Allah
Make Du'a for oneself before making Du'a for others
Make du'a in a moderately low voice
To Repeat the Du'a three times
Do not make dua against oneself, ones family, wealth and children
Acknowledging One's sins
Doing good deeds and asking Allah by one's good deeds
Not to use excessive rhymed prose when making du'a
Not to make du'a for prohibited and impossible things
To make a Du'a that encompasses most of the needs of Deen and the dunya
Book Free Trial
Why Learn Isamic Supplication
Are you a new revert to Islam who still learning the various forms of worshiping and seeking forgiveness by Allah (SWT)?
Do you want to teach your kids the Duain (daily supplication)?
Do you wish to get the protection of Allah (SWT) from evil in day & night? You can achieve all of this and more through the best online Islamic Supplication (Dua) classes at Quran Ayat.
Allah (SWT) says in the Quran [40:60]:
And your Lord says, "Call upon Me; I will respond to you." Indeed, those who disdain My worship will enter Hell [rendered] contemptible.
Muslims should articulate Duaa & Azkar at specific times of the day seeking satisfaction and forgiveness from Allah (SWT), and asking for protection from the different forms of evil.
Through the "Dua" course for both kids and adults, you or your children will learn the meanings as well as the reason behind the supplications to be said before going out or coming into the house, before entering and exiting the washroom or bathroom, before eating or drinking anything and so on.
Although the daily routine tasks & activities can be undertaken without making duaa (supplication), supplicating shows the belief of a Muslim and represents the fact that even for the most trivial of things, a believer turns towards Allah Almighty seeking blessings and help.
Learning Islamic Supplication (Dua) acts as a mercy and a healing for the human soul. It helps Muslims to always stay with Allah (SWT), no matter what they are engaged in.
The worldly tasks and chores shouldn't prevent them from the remembrance of Allah.
Utilizing technology, experience, and knowledge, our authentic Islamic teachers will walk with your or your kids step-by-step to learn and memorize all needful duas and how to recite them in a perfect manner.
Benefits of Learning How to Make Dua
There are many virtues that Muslim gains from making supplication (Du'a) to Allah (SWT).
Top benefits of learning Duain (Islamic Supplication) are:
1. The greatest benefit of dua is its fulfillment
As Muslims we know that ultimately we will receive whatever Allah has decreed for us. By putting our trust in the Almighty, our dua is most likely to become fulfilled and this is one of the greatest benefits of making dua; it gives us hope and strengthens the bond between the Almighty and ourselves. If the dua is not fulfilled, it may be accepted later on in this life or in the Hereafter, or it may be that Allah knows what is best for us and what is not, which we may not be able to recognize ourselves.
2. Dua is a gateway to Allah's mercy
Dua provides an opportunity to seek Allah's mercy and forgiveness. We are all human and not immune to having sinned. If we seek reformation and ask Allah for forgiveness through dua we can hope to be forgiven for our sins and gain His mercy. The Messenger of Allah (sa) said, "I certainly ask Allah for forgiveness seventy times a day."
3. Dua is powerful enough to change your Qadr (destiny)
If you fear a calamity or make dua that Allah protects you from a misfortune, He may accept it. Such duas have the power to change your Qadr. One must remember that duas can change one's destiny only in terms of minor aspects of life, such as protection from an enemy who may cause harm.
4. Dua keeps your heart humble
Dua keeps arrogance away from our hearts and promotes humbleness. When we make dua, we feel the Almighty's power and our reliance on Him, and we recognise our own powerlessness. Some matters can only be solved by the Almighty, but our supplications and our efforts help us achieve our needs. Our daily supplications to Allah can refresh our hearts in remembrance of our Lord and make us aware that all sustenance, good and bad, comes from Him.
5. Dua results in blessings
Muslims are encouraged to make duas, and those who do so are rewarded by Allah. Our Prophet (sa) said, "Allah is extremely displeased with the person who doesn't make dua to Him." (at-Tirmidhi; sound) From this we can see that by making duas, we can gain Allah's pleasure and His blessings.
Through dua we can seek His forgiveness, complete an act of worship, and strengthen our faith and our remembrance of the power of Allah. So go ahead, make dua today, and seek the benefits of this beautiful act of worship!