About Arabic Reading Course
Reading Arabic course is to be able to read the Arabic language, apart from spoken language. It's a prerequisite to fulfilling the rest of the rights of the Quran.'
Being a Muslim, do you not feel the dire need to be able to read Arabic, the language of our Holy Quran? A Book that is sent down upon us.
The Arabic language has diacritics, which tells you how to correctly read any word. This means that you will never need to guess or memorize the pronunciation of words.
Reading Arabic is one of the essential rights of the Quran that are obligatory on us. Reading is what makes you capable of recitation, following Tajweed, memorization of the Quran, and finally understanding it.
Reading Arabic course online enables you to read the Arabic language, read Hadith in Arabic, Islamic history, other authentic Islamic books by scholars, along with the Quran.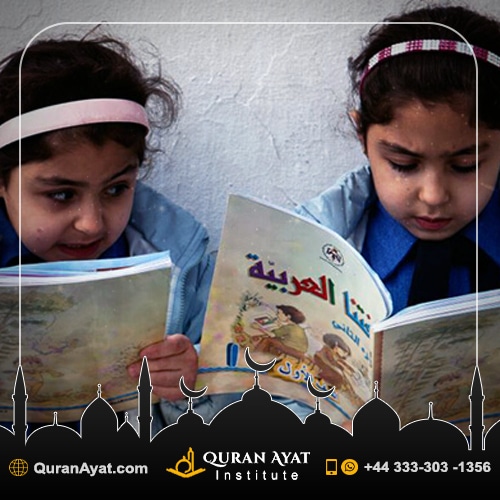 When scholarly books written in Arabic are translated to other languages i.e. Urdu, English, Spanish, the words lose their essence and true meaning often.
As for reading the Quran, Allah and His Messenger (S.A.W) has promised us as many rewards in this world and the hereafter. The one struggling to read is rewarded even more. Prophet (S.A.W) says:
"… And as for the one who recites with difficulty, stammering or stumbling through its verses, then he will have twice that reward."[Sahih Al-Bukhari and Muslim]

"Whoever recites a letter from the Book of Allah, he will be credited with a good deed, and a good deed gets a ten-fold reward…"[Sahih Al-Bukhari and Muslim]
As established before, Quranic Arabic and Arabic language are somewhat different but they have intersecting and overlapping concepts.
They have the same origins. Therefore, Reading Arabic also enables us to read Hadith in Arabic, Islamic history, other authentic Islamic books along with the Quran.
Book Free Trial
At Quran Ayat, our professional Arabic Language tutors will make you familiar with the basics of reading the Arabic language.
All letters, their forms, makharij, and add-ons like 'zer'or "kasrah" and 'zabar' or "Fatha" will be taught to you to smooth your recitation and reading of the Holy Quran.
In the reading Arabic course, we will provide Arabic Phonetics training in every lesson in order to improve your pronunciation and qualify you for the next level of Arabic learning. Exercises and Tests will further fasten your grip on the concepts.
in the reading Arabic course Your teacher will train you to read words, then short sentences and long sentences.
Our Arabic teachers will help you get familiar will all the basics, revise your concepts, revisit the wrong concepts you might have acquired from elsewhere, and then correct them.
We will put all our efforts to make sure you get to the perfection level of reading Arabic.
Through worksheets and thorough discussions, repeated tests, and quizzes, we will make sure you master all aspects of Arabic Recitation. So, get yourself registered for the "Reading Arabic" course and read Arabic like natives.
Benefits of Learning Arabic Reading
There are many virtues that an individual gains from learning Arabic reading.
Top benefits of learning how to read Arabic are:
1. Arabic connects you to hundreds of millions of speakers around the globe
Arabic, counting its many varieties, is the fifth-most spoken language in the world, with over 200 million native speakers of Arabic and more than 400 million total speakers of the language.
2. Arabic connects you to Arab-American communities
In the United States, more than one million Americans speak Arabic at home, making it the fastest growing second language in the United States since 2010. These 1 million are among an estimated 3.6 million Americans total of Arab origin. These people make up diverse communities that represent different religions (primarily Christian and Muslim), countries of origin, and cultures, including first-generation immigrants and families who have been in the United States for generations.
3. Arabic connects you to adherents of the world's third-largest religion
The Arabic language also holds special a significance for Muslims around the world who make up 23 percent of the world's population. Although most of these 1.6 billion Muslims do not speak Arabic as a native language, many Muslims learn Arabic as a language of religious study and prayer.
4. Arabic is a bridge to international affairs and global politics
Arabic is one of the six official UN languages, and it is the official or co-official language of 27 countries. Developments in the Arabic-speaking world have played an outsize role in the news and diplomacy of recent events.
5. Arabic will set you apart
By learning Arabic, you will distinguish yourself as a student who is willing to break the mold and try something different from the norm. This fact alone is enough to set yourself apart when applying for colleges, scholarships, and special programs.