About Online Ten Qiraat Course
"Qira'at" refers to various methods of Quran Reading & Recitation. There are ten different well-known schools of qira'at, and each one deriving its name from a noted Quran reciter or "reader" (Qari).
Ten Qiraat are:
Qirat Naafi' Al-Madani (Madinah)
Imam Malik (R.A) and Imam Ahmad ibn Hanbal (R.A) recited the Holy Quran in this way. most of the time.
Qirat Ibn Katheer Al-Makki (Makkah)
Imam Shafi, Al-Buzzi, and Qumbul recited the Quran in this manner.
Qirat Abu Amr Al-Basri (Basra)
The two Qaris who preserved this reading manner of the holy Quran were Ad-Doori and As-Soosi.
Qirat Ibn Aamir Ash-Shami (Syria)
The two Qaris who Recited with this recitation method were Hishaam and Ibn Zakwan.
Qirat Asim al-Kufi (Kufa)
Imaam Abu Hanifa (R.A), Ahmad ibn Hanbal (R.A), Shuba, and Hafs preserved this recitation of the Quran.
Qirat Hamzah Al-Kufi (Kufa)
The two Qaris who preserved this recitation are Khalaf and Khallad.
Qirat Al-Kisaa'i (Kufa)
The two Qaris who preserved this way of Quran recitation are Al-Layth and Ad-Doori.
Qirat Abu Ja'far Al-Madanee (Madinah)
The two Qaris who preserved this way of recitation are Isa and Sulayman.
Qirat Yaqub ibn Al-Basri (Basra)
Imam Bukhari is reported that he has recited in this manner of the recitation. Also, the two famous Qaris who narrated this recitation are Ruways and Rooh.
Qirat Khalaf Al-Bazzar (Baghdad)
The two famous Qaris who recited this recitation are Ishaq and Idris.
Each Qirat is recited by the master with all variants. It is a kind of corpus of recitation, that is then referred to as the master by the students. There are many transmission lines as well. So in short, there there are 20 Rawis and Eighteen lines in total. Each Qirat has its own rules of recitation and Tajweed.
Ten Qira'at doesn't refer to the difference in voices and styles in Quran reading and recitation, but it more represents the differences in articulation of the words, letters, and harakat. This can be noticed obviously when you compare 2 different versions of the Holy Quran book and you find differences between them in diacritics and harakat, as each Qira'a has its own Tajweed rules.
Ten Qiraat Course at Quran Ayat Institute will help you or your children to learn 10 Qirats online through one-to-one live classes with highly-qualified Quran teachers.
What makes the Ten Qira'at online classes by Quran Ayat unique is that it's totally customizable as per student's age, goals, and knowledge. Both kids & adults, males & females, can take this course to learn different recitations of the Quran with a professional tutor (male/female) safely in the comfort of their own home.
Utilizing technology, experience, and knowledge, our specialized tutors will walk step-by-step with you or your children until you master the 10 different methods of Quran recitation with the corresponding Tajweed rules.
Book Free Trial
Why Learn 10 Qiraat of Quran
Do you wish to recite Quran like the top Quran reciters across history? Do you want to master various Quran recitation methods & techniques? Do you want to study all known tajweed rules? You can learn all of this and more through the best online Ten Qirat classes at Quran Ayat.
Ten Qirats represents proof that the Qur'an is a revelation from Allah (SWT) and preserved across the ages, as all of these Qira'ats have been recited with a direct and authentic chain of narrators back to the Prophet Muhammad (PBUH).
Through the "Ten Qira'at" course for both kids and adults, our certified Quran scholars will help you to take your Quran recitation to a whole new level, you will be able to recite the Quran perfectly and in many different ways.
Moreover, this course will endeavor to facilitate Quran Memorization; because the student read and recite Quranic verses many times and with different methods.
Utilizing repeated recitations, tests, and exercises, our Quran tutors will help you or your kids to excel in Qirats in a short-time depending on student's age, background, and ability to absorb provided knowledge.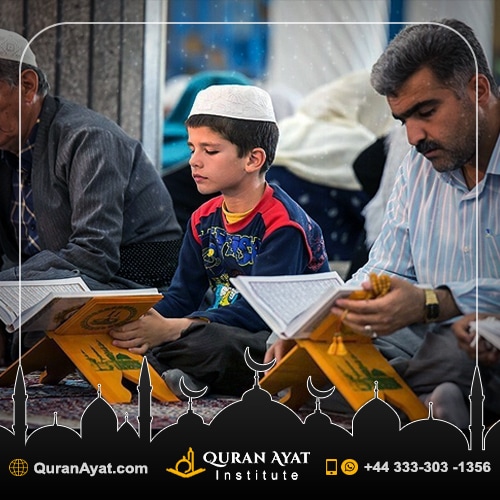 Benefits of Learning Ten Qiraat Quran
There are many virtues that Muslim gains from reading the holy book of Allah in different ways, the Quran. Not to mention that the journey of learning ten qirats itself is very rewarding.
Top benefits of learning 10 Qiraat are:
1. Win This Life and Hereafter
The holy Quran is a comprehensive divine guide sent to mankind by Allah (SWT) so that they read, understand, and abide by all its rules & teaching.
Allah Almighty is the creator of everything. If you read and adopt His great words in every act and thought, you will win this life and hereafter.
In this regard, Allah (SWT) says:
This is the Book (The Quran) about which there is no doubt, a guidance for those conscious of Allah.
2. Great Assistant in Raising Muslim Kids
When kids learn to read Quran, they will understand their religion and embrace Islam morals. This will endeavor to raise them the right way.
Your children will be obedient to you; the Quran teaches kids the importance of parents and how to behave with them.
For your Lord has decreed that you worship none but Him. And honor your parents. If one or both of them reach old age in your care, never say to them ˹even˺ 'ugh,' nor yell at them. Rather, address them respectfully.
3. Quran Reading Fulfills Islamic Obligation
In Islam, the act of reading the Quran itself is not obligatory (Fard). Yet, Salat (Prayer), one of the 5 pillars of Islam, is obligatory.
One of the most critical parts of performing Salat is reciting Quran verses. So, learning to read Quran is a MUST to perform Salat.
4. Learning Ten Qiraat Distinguishes You
Learn to read Quran, excel in it, then teach it to others. This puts you in a distinguished place that Allah (SWT) assigned only to those who learn Quran and teach it.
In this regards, the prophet Muhammad (PBUH) said:
The best among you (Muslims) are those who learn the Qur'an and teach it.
5. A Relief for Heart, Mind and Soul
The effect of reading the Quran on our hearts is amazing.
Many people who are victims of depression, anxiety, and restlessness felt incomparable calmness in their minds, hearts and souls when they read Quran.