About Online Quran Memorization Course
Quran Memorization is to learn every word of it by heart. Memorizing the Quran is different from memorizing any other piece of text. It is a great responsibility to learn Quran memorization correctly, as you cannot and must not change any word or even the slightest makharij.
Changes in makharij often change the entire meaning and context of the word and the verse in its entirety. It is the message of Allah, thus should be learned and held with immense concentration and great responsibility.
Being able to learn the Quran by heart is a beautiful feeling, a great asset and sacred possession in itself. It's like you carry the Quran in your heart. Wherever you go and whatever you do, the light of the Holy Book follows you.
Do you want to experience the same? Do you wish to hold the sacred book so close to yourself?
Having the outstanding power and strength of knowing the Quran by heart? Are you looking for a professional to help you achieve this dream?
You have reached the right place, we are here to pave ways to your dream. Give us the honor to help you gain this 'PLEASURE'.
Quran Memorization in its entirety is a great struggle and effort, which is why a lot of rewards and virtues have been kept in it for you.
A person who has memorized Quran is referred to as a 'Hafiz-e-Quran' and holds a high position in the eyes of Allah and His Messenger (S.A.W). A Hafiz has eminent privileges over other Muslims in this life, which have been verified in Quran and Hadith.
Hafiz gets to lead the prayer and he is preferred for leadership if he is capable of bearing it. Moreover, the privileges and rewards for a Hafiz continue in the afterlife as well.
In the hereafter, the status of a Hafiz would be proportionate with the last ayat he memorized. He would be accompanying the angels. A Hafiz would wear a crown and garment of honor. Lastly, the Quran will represent him in front of Allah.
Book Free Trial
Why Learn Quran Memorization
We, at Quran Ayat, offer the Quran Memorization course, where we have assimilated the top Quran scholars and professionals for you.
A thorough schedule would be discussed with you at the beginning of the session and our professionals would help you follow it to achieve your goal in the decided time frame.
You will be exposed to repeated tests that to make sure the Quran stays with you for a long time and you don't forget it; forgetting the Quran has serious consequences. Prophet (S.A.W) says:
"Whoever forgets the Qur'anic verses after memorizing them will be raised blind on the Day of Judgement."
(Maakhaz: Para 16, Taha 125.126)
Through repeated revisions, tests and quizzes, we will make sure your Quran memorization stays intact, and you never get any word wrong. Follow-up classes will also be taken monthly to help you revise the learned surahs and paras.
Furthermore, your teacher will work on facilitating memorization and help you overcome any problems with memorization.
In Quran Ayat, we have male and female native Quran teachers specialized in Quran teaching. They hold Ijazah in and are qualified to teach the Quran to children and adults. 
So, get yourself registered for the "Quran Memorization" course and become a Hafiz/Hafiza of the Holy Quran.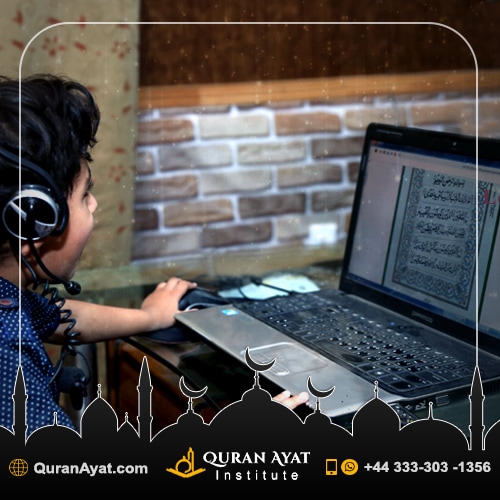 Benefits of Learning Hifz Quran
There are many virtues that Muslim gains from memorizing the holy book of Allah, the Quran. Not to mention that the journey of Hifz Quran itself is very rewarding.
Top benefits of learning Quran memorization are:
1. Win This Life and Hereafter
The holy Quran is a comprehensive divine guide sent to mankind by Allah (SWT) so that they read, understand, and abide by all its rules & teaching.
Allah Almighty is the creator of everything. If you read and adopt His great words in every act and thought, you will win this life and hereafter.
In this regard, Allah (SWT) says:
This is the Book (The Quran) about which there is no doubt, a guidance for those conscious of Allah.
2. Great Assistant in Raising Muslim Kids
When kids learn Quran memorization, they will understand their religion and embrace Islam morals. This will endeavor to raise them the right way.
Your children will be obedient to you; the Quran teaches kids the importance of parents and how to behave with them.
For your Lord has decreed that you worship none but Him. And honor your parents. If one or both of them reach old age in your care, never say to them ˹even˺ 'ugh,' nor yell at them. Rather, address them respectfully.
3. Quran Memorization Fulfills Islamic Obligation
In Islam, the act of memorizing the Quran itself is not obligatory (Fard). Yet, Salat (Prayer), one of the 5 pillars of Islam, is obligatory.
One of the most critical parts of performing Salat is reciting Quran verses. So, learning to read Quran is a MUST to perform Salat.
4. Learning Quran Reading Distinguishes You
Learn to read Quran, excel in it, then teach it to others. This puts you in a distinguished place that Allah (SWT) assigned only to those who learn Quran and teach it.
In this regards, the prophet Muhammad (PBUH) said:
The best among you (Muslims) are those who learn the Qur'an and teach it.
5. A Relief for Heart, Mind and Soul
The effect of memorising the Quran on our hearts is amazing.
Many people who are victims of depression, anxiety, and restlessness felt incomparable calmness in their minds, hearts and souls when they read Quran.